Types of Sport Fishing
From casting with a spinning rod to trolling from a boat, sport fishing offers a range of techniques and methods to suit any angler. Whether you're a beginner or an expert, there's a sport fishing style for everyone. Read on to learn about the different types of sport fishing available.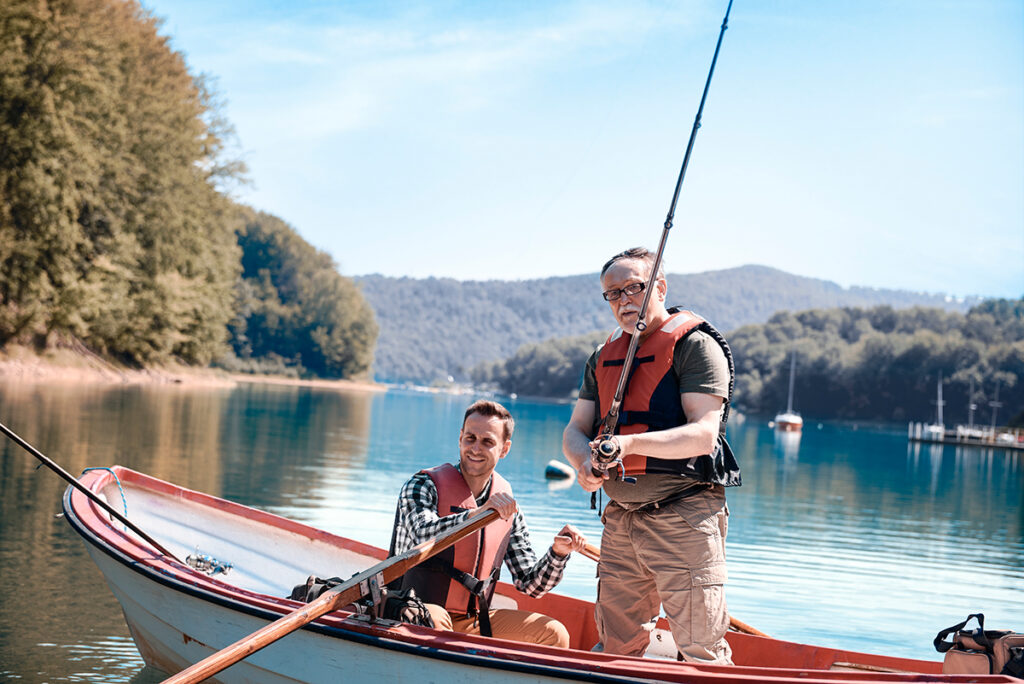 Fly Fishing
One of the popular past times for that unique experience is fly fishing. As anglers cast their lines in search of the perfect catch, they enjoy the stunning beauty of Canada's rivers and lakes. Plus, there are plenty of fish species to target, including trout, salmon, and bass. In addition, the fly fishing destinations span the entire country. As a result, you'll find a great spot to wet a line everywhere.
Furthermore, this sport can be enjoyed year-round since many species are available. You can spend hours casting your line and waiting for that big catch. The sport is growing in popularity, so don't miss out on the chance to experience it. With its stunning scenery, variety of fish, and diverse destinations, fly fishing is an experience you won't want to miss.
Competition / Team Fishing
In Canada, competitive fishing is becoming increasingly popular. Anglers from across the country compete in various tournaments, hoping to be the ones to catch the biggest fish. Every year, the Canadian Fishing Championships are held at various locations across the country.
Here, teams of anglers compete for the title of Canada's Best Fisherman. Competing in a fishing competition can be an incredibly rewarding experience. Not only does it provide you with an opportunity to show off your skills, but you can also make lifelong friends in the process. Plus, it's a great way to explore and enjoy the natural beauty of the outdoors.
Freshwater Sport Fishing
This type of sport fishing may not get as much attention as others of its kind, but, many anglers enjoy it just as much. After all, there are plenty of freshwater fish species to catch! Plus, it can be a great way to relax and take in nature. You're sure to have a great time in freshwater fishing.
In addition, different types of baits can be used. Some anglers also use a bobber to suspend the bait in the water to make it more visible to the fish.
Also, you can use different rods. The type of rod used will ultimately depend on the type of fish being targeted and the water conditions.
Moreover, many anglers enjoy trolling a boat on a lake or pond. No matter what method you choose, this is a great way to enjoy the outdoors. Furthermore, the cost is much lower than saltwater fishing. It does not require a large boat or expensive equipment. In conclusion, freshwater fishing is a great way to spend time with family and friends, and catch dinner. Plus, it's much easier on the wallet. So, why not give it a try?
Saltwater Sport Fishing
This type offers a vast opportunity to fish in different environments and provides the chance to catch an array of saltwater fish species. Saltwater fishing is an entirely different beast, as it can be tricky to understand the environment.
While beginners may start off fishing from piers and docks, advanced fishermen target larger species from the deep seas. To get the best out of it, it's recommended to research locations on Google Maps and to consider fishing from a boat that allows you to access deeper waters.
Once you've decided on a destination, start collecting your equipment. Equally important, you must know the regulations for the area. Be sure to check the limitations of the species you plan to target.
Also, if you're a beginner, consider taking a guided fishing tour. Experienced guides help you find the best spots and teach you the proper techniques. Ultimately, it's perfect for an action-packed adventure. So, are you looking for an intense angling experience? Saltwater sport fishing is the way to go!